Marble Countertop Installation
Seen in many homes across the country, especially Deleware and Southeastern Pennsylvania, laminate countertops are a popular choice when it comes to creating a durable countertop surface. Formica – or laminate countertops – were originally known as Micarta countertops until the Formica Corporation transformed the look and feel of the original Micarta countertops. For this reason, you may often hear laminate countertops referred to as Formica countertops.
Many manufacturers create laminate countertops today. These manufacturers include the likes of:
Give us a call or contact us online to receive a free quote for custom laminate countertop installation in Delaware and Southeastern Pennsylvania.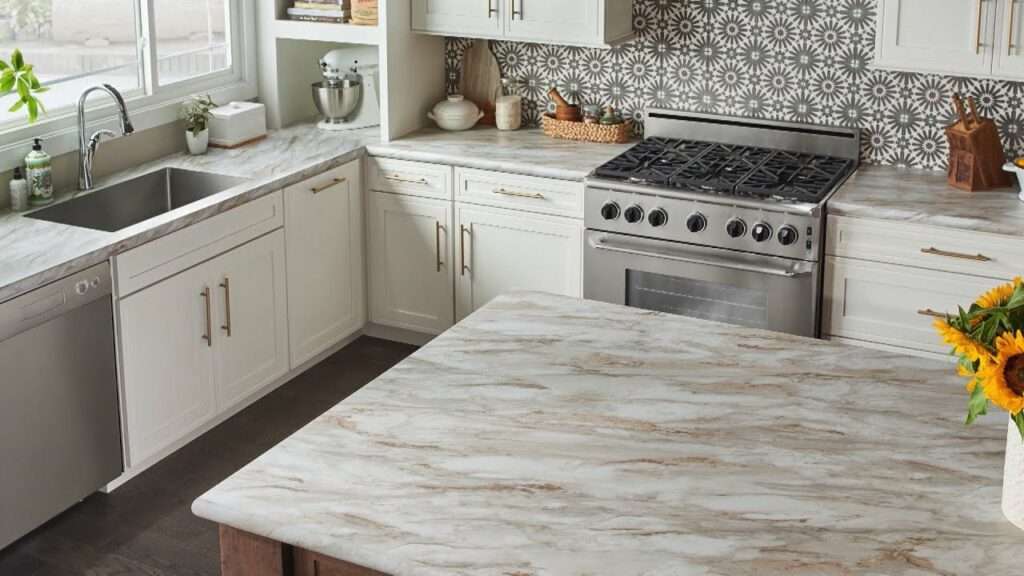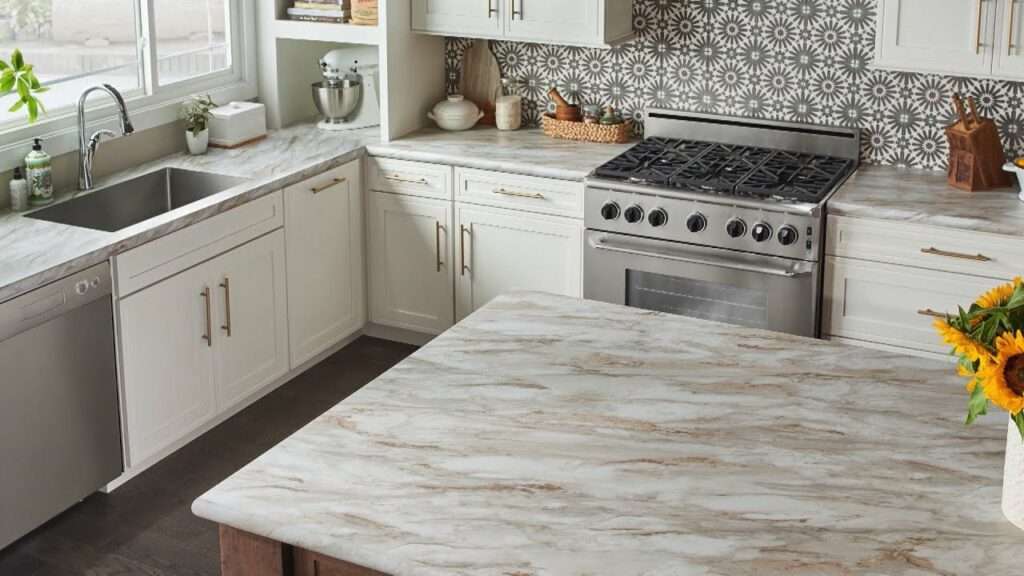 Custom High-Pressure Laminate Countertops (HPL Countertops)
The countertop you choose will depend on what you are looking for in terms of color, style, and longevity. High-Pressure Laminate (or HPL) is seen as a highly durable surface material.  Many companies include special properties in their laminate countertops including wear resistance, fire resistance, and chemical resistance. You will also see HPL used in furnishings, tabletops, flooring, and cabinetry.
Laminate Countertops: Choosing Your Style
The range of laminate countertop choices allows for customers to take their pick when it comes to getting the look they want. Choices vary from different wood grains to patterns, which also come paired with many different options. You can choose a patterned laminate countertop that comes in a high gloss finish or you can go for a solid color that has added sparkle to it. These days you can even get laminate countertops that look like high-end materials, such as granite, but have the functionality of laminate. These types of laminates are called high-definition laminates and can help homeowners get the look they want while still maintaining their budget.
Color and finish is not the only choices available. The edging on laminate countertops comes in many more options than it once did. In place of the traditional square edges, technology advances mean that you can now get beveled, bull nosed, rounded, and many other kinds of edges on your laminate countertops. While these options may increase the price of your laminate countertops, they still make this choice very reasonable in comparison to other materials.
When cared for correctly, laminate is a very durable surface and can look good for many years. Under daily use (and when kept dry and free of high temperatures), your laminate countertos should give a shine just as good as the day it was installed.
Laminate countertops are one of the most cost-efficient types of countertops and thanks to the different styles and choices available, you can have what you want and save money.
Free Quotes On All Laminate Countertop Installs
If you are looking to replace your current countertops, you may be considering laminate countertops. The team at B&B contracting can help you choose the right style choices for your home. We will help you with kitchen countertop design and installation, giving you the look you want.
We offer free quotes on all laminate countertop installation projects – call us today!