Kitchen Remodeling Services
Serving Delaware and Southeastern Pennsylvania
When you're remodeling your kitchen, there are many things to take into consideration—everything from a layout that is conducive to easy movement and good flow around the kitchen to wiring for lighting and appliances must be taken into account for a successful kitchen remodeling project.
If you're tackling a full kitchen remodel, there will be many minor projects occurring concurrently to accomplish the greater kitchen remodeling project. Cabinets have to be ordered, flooring laid, countertops installed, backsplashes put up, and more. All of these elements have to be chosen carefully, measured correctly, and installed expertly for your kitchen to look the way you imagined.
At B&B Contracting, we have been providing kitchen remodeling services in Delaware and southeastern Pennsylvania for more than 10 years. We've helped thousands of homeowners throughout the area successfully remodel their kitchens, and we can help you too. Give us a call or fill out a contact form today to request a free estimate!
Cabinet Installation & Replacement
For many homeowners, kitchen cabinet installation can be the single largest expenditure in their kitchen remodeling project. Precise measurements and installation are necessary so that your cabinets not only fit perfectly into the desired location but are safely secured to the walls.
Whether you already have a style picked out or you are looking for a professional suggestion, B&B Contracting can help. We can take precise measurements and ensure that your kitchen cabinets are installed properly—ensuring a professional aesthetic.
Behind cabinets, countertops are typically the second-most expensive expenditure in kitchen remodeling projects. Do you want granite, laminate, concrete, quartz, stainless steel, or ceramic tile? It depends on how you use your kitchen, whether you have kids or your particular design ideas. B&B Contracting can help you measure, design, and install countertops as a part of your kitchen remodeling project.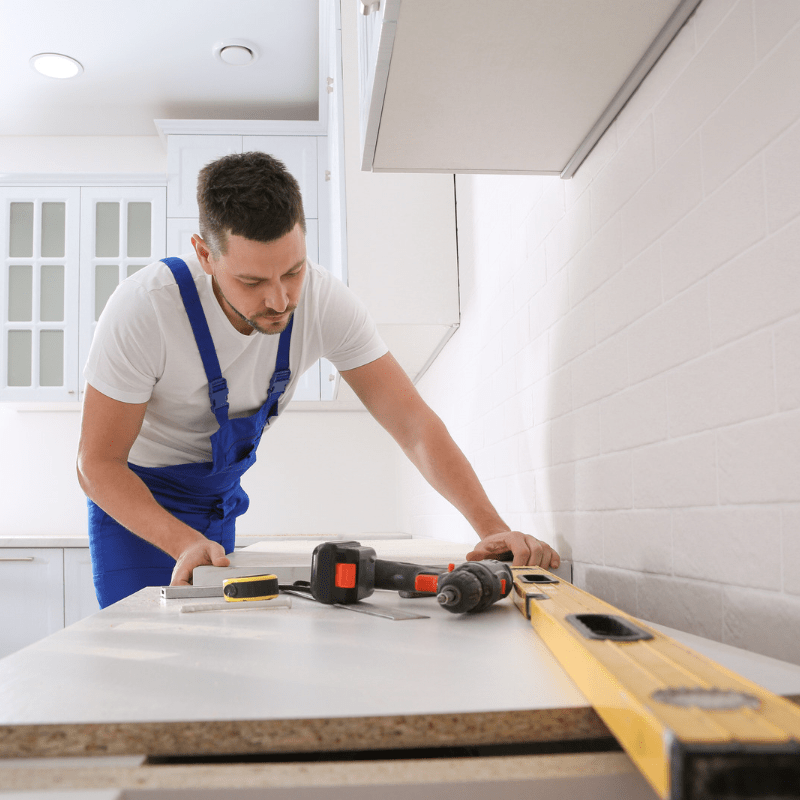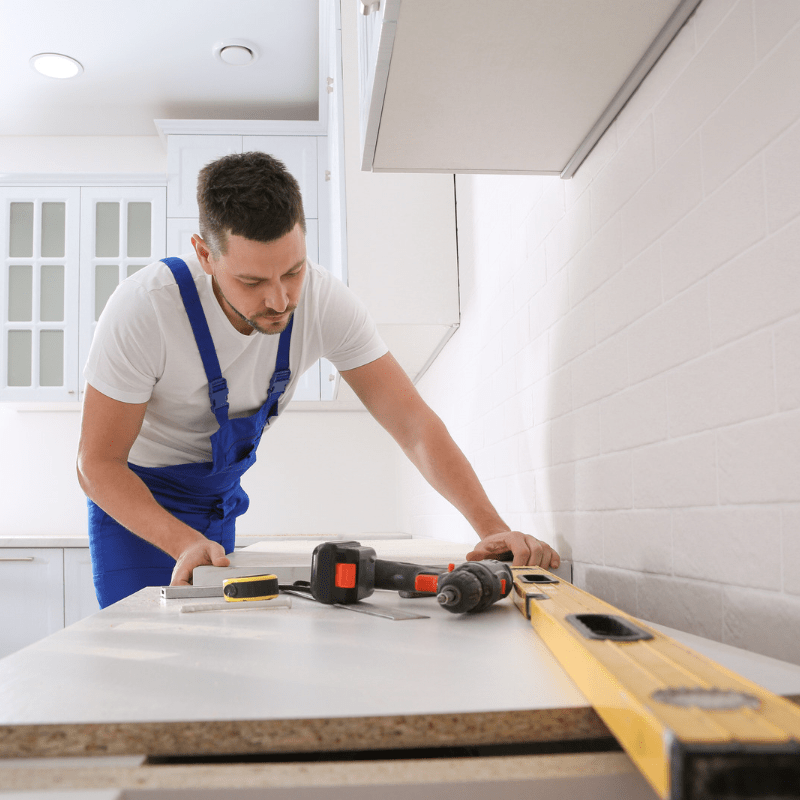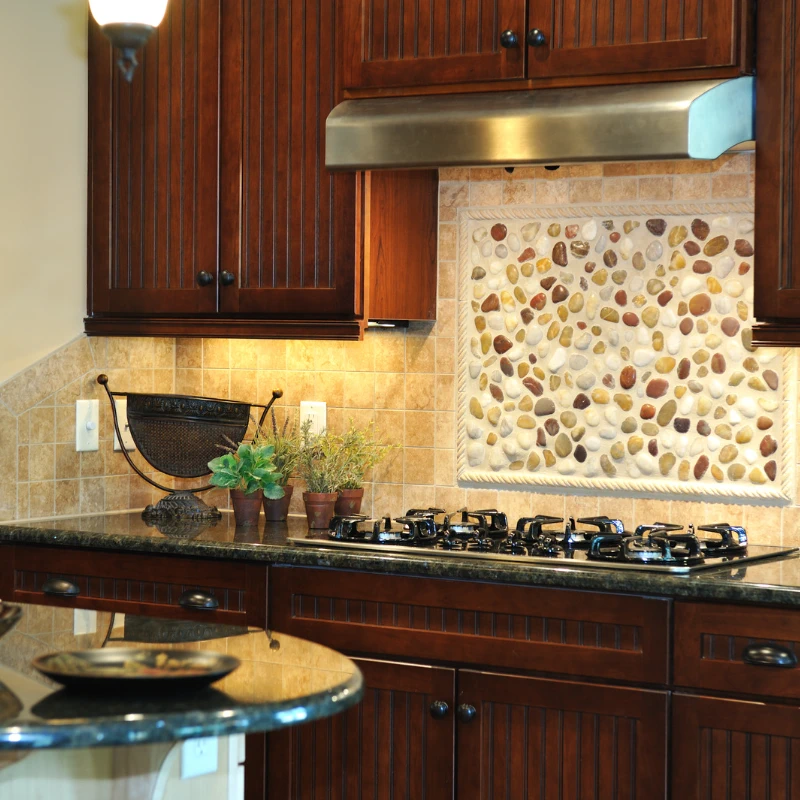 Backsplashes are a vital component of any kitchen remodeling project. Not only are they a great way to add some color and design to your kitchen, but they also help protect your walls against moisture and staining. Whether you want to use tile, mosaic, stone, or any other backsplash material, B&B Contracting can help give your backsplash a professional touch.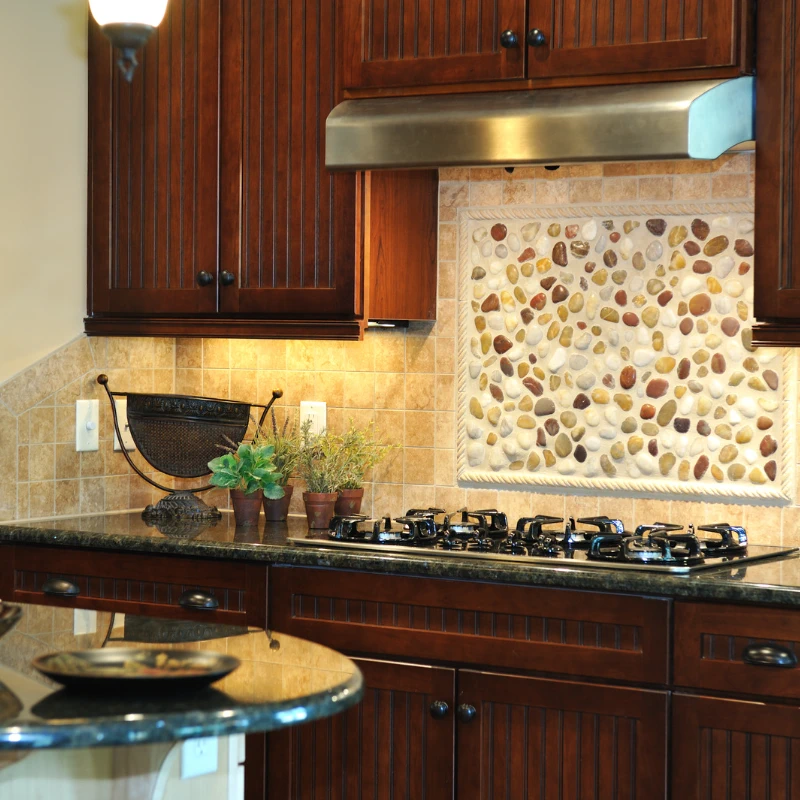 Tile work is one of the most difficult home improvement projects. Measuring, cutting, leveling, and properly grouting tile can be extremely difficult work for those without experience. For a professional look, you need to keep all of the seams even and level, and the tile needs to be grouted and sealed properly to keep moisture from getting underneath it and loosen the adhesive. Our kitchen remodeling experts have years of experience installing stone and ceramic tiles! We can incorporate tile installation into any kitchen remodeling project, whether tile flooring, countertops, or backsplashes.
Kitchen Remodelers Servicing Delaware & Southeastern Pennsylvania:
Request a Kitchen Remodeling Estimate
To learn more about our remodeling or home improvement services, contact us today.
We offer free estimates and guarantee satisfaction on all projects. We have a great
reputation in the community, and we make it our priority to not only maintain but
 build on that reputation with every project.