kitchen remodeling contractors in delaware
Serving Delaware and Southeastern Pennsylvania
Your search for kitchen remodeling contractors in Delaware ends at B&B Contracting. We are one of the oldest kitchen contractors in Delaware. Contact us now to get a free quote for kitchen remodel near you in Delaware.
Kitchen Remodeling Delaware: When you're remodeling your kitchen, there are many things to take into consideration—everything from a layout that is conducive to easy movement and good flow around the kitchen to wiring for lighting and appliances must be taken into account for a successful kitchen remodeling project.
If you're tackling a full kitchen remodel, there will be many minor projects occurring concurrently to accomplish the greater kitchen remodeling project. Cabinets have to be ordered, flooring laid, countertops installed, backsplashes put up, and more. All of these elements have to be chosen carefully, measured correctly, and installed expertly for your kitchen to look the way you imagined.
At B&B Contracting, we have been providing kitchen remodeling services in Delaware and southeastern Pennsylvania for more than 10 years. We've helped thousands of homeowners throughout the area successfully remodel their kitchens, and we can help you too. Give us a call or fill out a contact form today to request a free estimate.
Cabinet Installation & Replacement
For many homeowners, kitchen cabinet installation can be the single largest expenditure in their kitchen remodeling project. Precise measurements and installation are necessary so that your cabinets not only fit perfectly into the desired location but are safely secured to the walls.
Whether you already have a style picked out or you are looking for a professional suggestion, B&B Contracting can help. We can take precise measurements and ensure that your kitchen cabinets are installed properly—ensuring a professional aesthetic.
Behind cabinets, countertops are typically the second-most expensive expenditure in kitchen remodeling projects. Do you want granite, laminate, concrete, quartz, stainless steel, or ceramic tile? It depends on how you use your kitchen, whether you have kids or your particular design ideas. B&B Contracting can help you measure, design, and install countertops as a part of your kitchen remodeling project.
With our expertise and knowledge of the latest countertop materials and trends, B&B Contracting is your trusted partner for kitchen remodeling  Delaware. We can guide you in choosing the perfect option that aligns with your style, budget, and specific needs for your kitchen remodeling project in Delaware. Whether you prefer the elegance of granite, the versatility of quartz, or the affordability of laminate, our skilled team will ensure a precise and flawless installation, transforming your kitchen into a stunning and functional space. Trust B&B Contracting for all your kitchen remodeling needs in Delaware.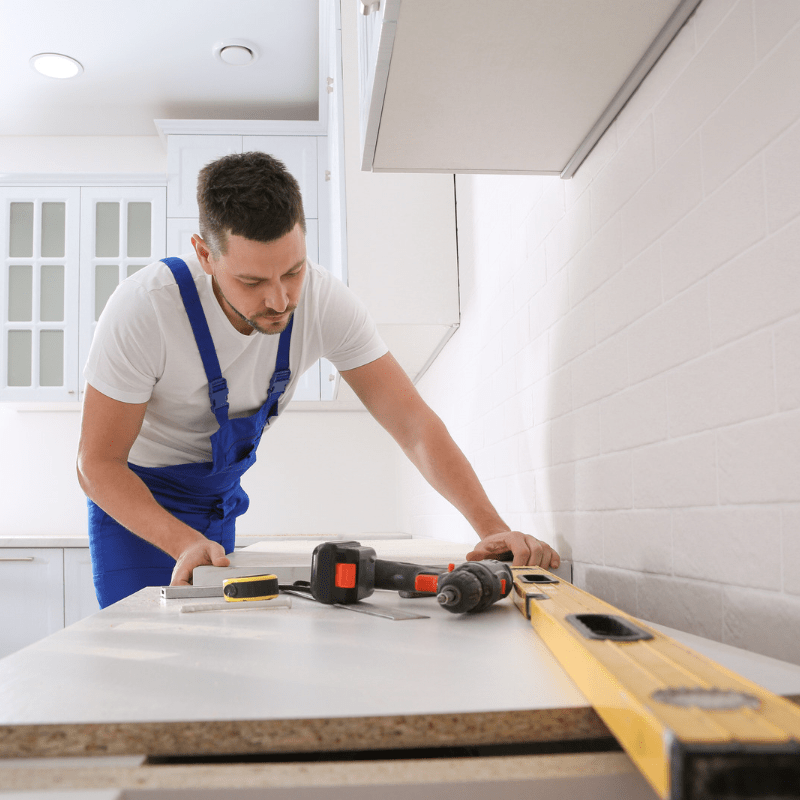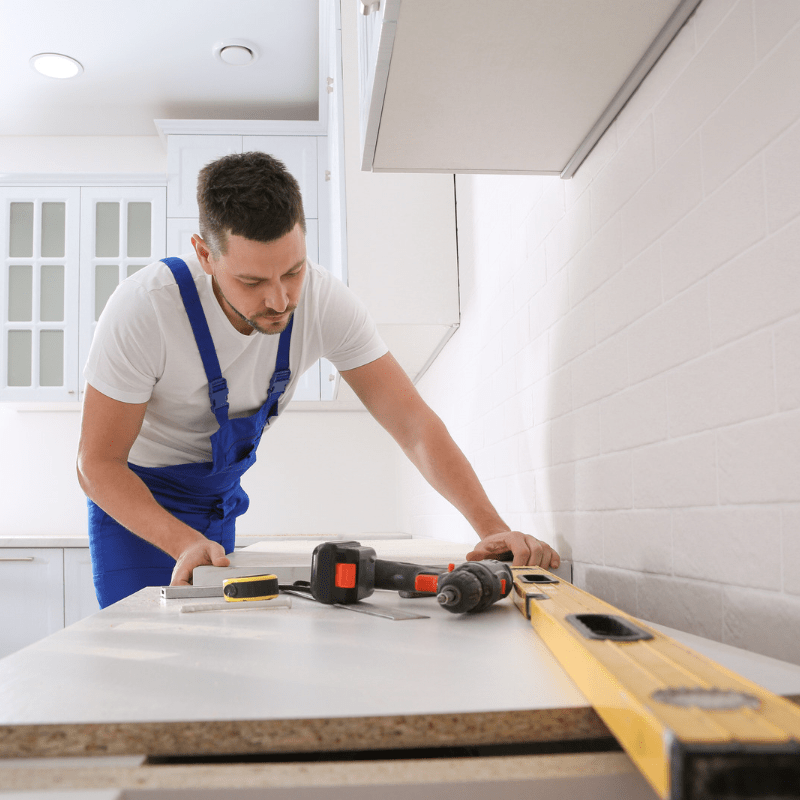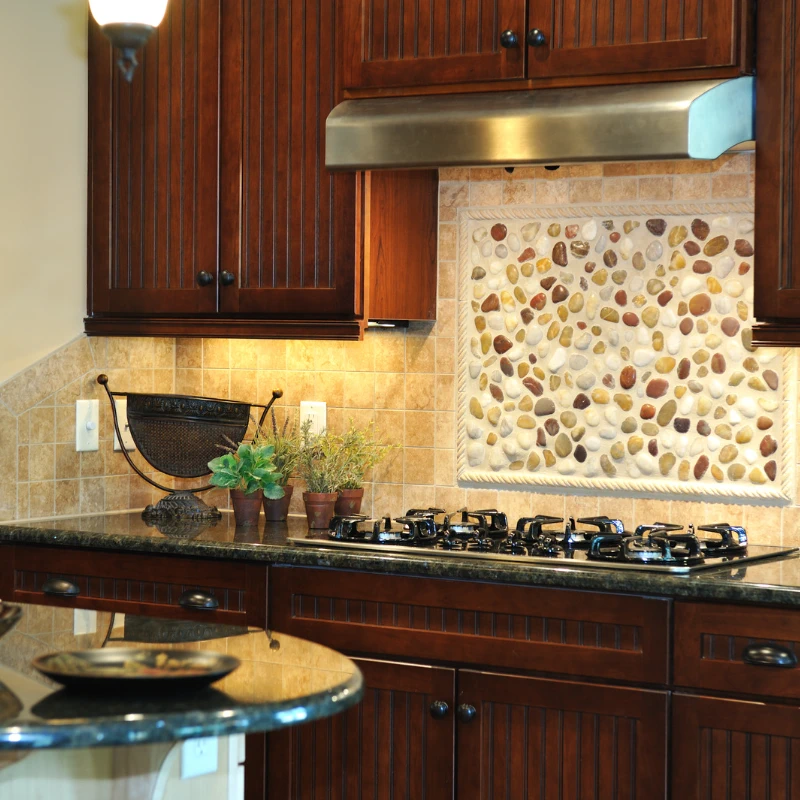 Backsplashes are a vital component of any kitchen remodeling project. Not only are they a great way to add some color and design to your kitchen, but they also help protect your walls against moisture and staining. Whether you want to use tile, mosaic, stone, or any other backsplash material, B&B Contracting can help give your backsplash a professional touch.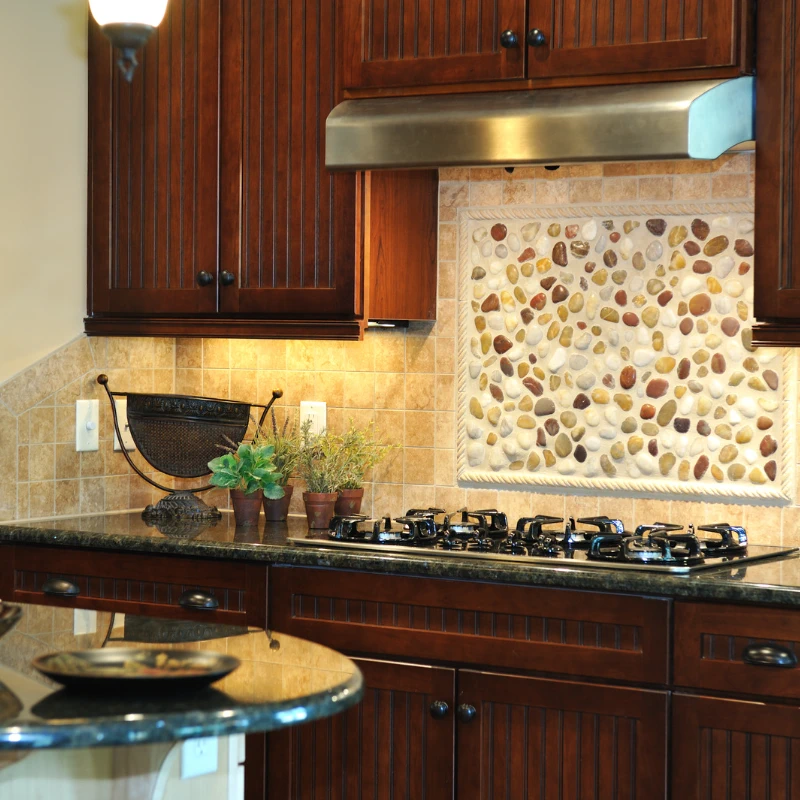 Tile work is one of the most difficult home improvement projects. Measuring, cutting, leveling, and properly grouting tile can be extremely difficult work for those without experience. For a professional look, you need to keep all of the seams even and level, and the tile needs to be grouted and sealed properly to keep moisture from getting underneath it and loosen the adhesive. Our kitchen remodeling experts have years of experience installing stone and ceramic tiles! We can incorporate tile installation into any kitchen remodeling project, whether tile flooring, countertops, or backsplashes.
Kitchen Remodelers Servicing Delaware & Southeastern Pennsylvania:
Request a Kitchen Remodeling Estimate
To learn more about our remodeling or home improvement services, contact us today.
We offer free estimates and guarantee satisfaction on all projects. We have a great
reputation in the community, and we make it our priority to not only maintain but
 build on that reputation with every project.
Why Choose B&B Contracting for kitchen remodel near me in Delaware
Your relentless search for phrases like "kitchen remodel near me" will end as soon as you reach this page. Read on to know why B&B Contracting is the best choice for your kitchen remodel in Delaware:
Local Expertise in Delaware
Based right here in Delaware, we understand the local design trends and building regulations. Our team has been serving the community for years, and we take immense pride in our reputation for excellence.
Tailored Solutions For Your Unique Requirements 
No two kitchens are alike, and we embrace the challenge of customizing each project to fit your vision. Our design team will work closely with you to bring your ideas to life and deliver a result that surpasses your expectations.
Quality & Experienced Craftsmanship 
We believe that attention to detail makes all the difference. Our skilled craftsmen are passionate about their work and dedicated to delivering impeccable results, ensuring that your kitchen remodel stands the test of time.
Budget-Friendly – Pocket Friendly Kitchen Remodeling Cost
Renovating your kitchen doesn't have to break the bank. B&B Contracting offers competitive pricing without compromising on quality, making your dream kitchen an affordable reality.
Stress-Free Experience Every Time
Our friendly and professional team will guide you through every step of the process, from initial consultation to the final reveal. Sit back, relax, and watch your dream kitchen come to life hassle-free!
Whether you're looking to update a few features or completely overhaul your kitchen, B&B Contracting has the expertise and resources to make it happen. Don't settle for anything less than perfection – trust B&B Contracting to create the kitchen you've always envisioned.
How do I choose the best kitchen contractors in Delaware
Choosing the best kitchen contractors in Delaware requires careful consideration and research to ensure you hire a reputable and reliable team for your kitchen remodel.
Here are some essential steps to help you make an informed decision:
Check Reputation
Look for kitchen contractors with a strong reputation in Delaware. Read online reviews and testimonials from past clients. You can also ask for references and speak directly with their previous customers to get firsthand feedback on their experiences. At B&B Contracting, we will help you find out our track record. You may also check our reputation at our Google Business Profile page: https://goo.gl/maps/e3uuLYs2MwMHZa6W8
Verify Credentials
Ensure the contractors you're considering are licensed, insured, and bonded. These credentials protect you from liability in case of accidents during the project and indicate that the contractor meets the necessary industry standards. At B&B Contracting, we are licensed and insured.
Experience Matters
Experience counts when it comes to kitchen remodeling. Look for contractors with a proven track record of successful kitchen projects. Experienced contractors are more likely to handle unexpected challenges effectively and provide better results. B&B Contracting has more than 20 years of experience in kitchen remodeling and home improvement.
Portfolio of Work
Review the contractor's portfolio or gallery of completed kitchen projects. This will give you a sense of their style, craftsmanship, and attention to detail. Check if their past work aligns with your vision for your kitchen remodel. At B&B Contracting, we will present the diverse range of projects we have worked on.
Transparent Communication
Effective communication is crucial during a remodeling project. Ensure the contractor is responsive, communicates clearly, and listens to your ideas and concerns. A contractor who understands your needs will be more likely to deliver a satisfactory outcome. At B&B Contracting, our contractors are always in touch with you and update you on a regular basis regarding the progress of the project.
Ask about Subcontractors
Inquire if the contractor will use subcontractors for any part of the project. If they do, ensure the subcontractors also have the necessary licenses and insurance. B&B Contracting doesn't employ any subcontractors.
Written Contract
Once you've chosen a contractor, make sure to get a written contract that outlines all the project details, including timelines, payment terms, materials to be used, and warranties. At B&B Contracting, we ensure that you get a written contract for agreed scope of work.
Trust Your Instincts
Trust your gut feeling about the contractor. If something feels off or you have doubts about their capabilities, it's better to explore other options.Talk to our representatives at B&B Contracting and you will immediately realize that you are at the best place when it comes to kitchen remodeling in Delaware.
Remember, your kitchen remodel is a significant investment, and hiring the right contractor can make all the difference in the success of your project. Hire B&B Contracting to make best out of this investment and improve value of your property.